Sea Spa Package
Zolna Yachts is excited to offer our 'Sea Spa Package' for the ultimate in relaxation and self care aboard the
Nerissa
yacht on San Diego Bay. This package provides a relaxing escape from the ordinary for up to 12 people. This package includes:
3 hr cruise aboard the Nerissa Yacht
A licensed massage therapist from Sea Breeze Massage serving your group during the entire cruise
A healthy catered menu of delicious food from Sarah Jane's Kitchen
An open bar for refreshing drinks and cocktails
Hot tub spa and sun decks
An attentive staff to take care of you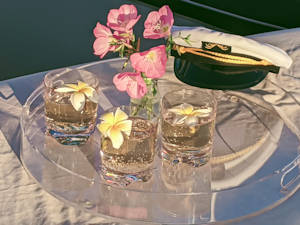 So if you're looking for something very special, treat yourself to the 'Sea Spa Package'. This package is perfect for bridal showers, bachelorette parties or simply just a girls night out for you and your friends. Considering the 3 hour cruise on the bay, a massage therapist, catered food and open bar, this package is quite affordable starting at $350 per person for 12 people (total package cost $4200). Gratuities are not included and always much appreciated.
Of course, if you desire something more, we can accommodate that as well. An additional massage therapist can be included for $350 as well as an onboard chef for different food options.
Come join us and spoil yourself with the tranquility of being on the open water, viewing the San Diego skyline while enjoying a massage or relaxing in the hot tub with friends. Your ultimate relaxation get-away awaits!
Contact Shari Zolna directly at 858-688-2694 to take advantage of this special package.
Spa Package
Spa Package Menu