Meet the Zolna Yachts Team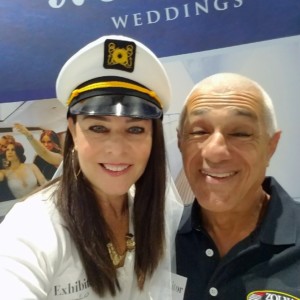 Zolna Yachts is a unique company specializing in private yacht charters on the San Diego Bay. I'm Shari Zolna and my husband and business partner is Amos Zolna. We have revolutionized the way San Diego visitors and locals alike look at chartering yachts.
It is with pleasure that we provide a truly unique and wonderful way for all our guests to experience yachting. We're proud to be San Diego's most exciting yacht charter company since 2007, offering extraordinary venues for corporate meetings and private celebrations aboard motor yachts with unparalleled customer service.
Amos and I moved from New York City to San Diego in 1995. We have a beautiful daughter, Annabelle, who has become a fantastic First Mate and crews on many of our charters whenever she's home from college up at UCSB. We have a rescued German Shepherd, coincidentally named "Bella" whom we still foster after having successfully found "fur-ever" homes for her 10 gorgeous pups.
Amos and I instantly fell in love with everything this awesome city has to offer. It was simply a pleasure getting used to San Diego's great year round climate, and we were especially drawn to it's unique coastal way of life. After many years of owning vacation rental properties on the island of Maui, Amos came up with the crazy idea to combine our knowledge of the vacation rental business with our passion for boating. And so we did. In March of 2007, we opened Zolna Yachts, a unique San Diego business offering yacht charters and lodging, which is now available aboard a sweet Houseboat. Soon after we added to our resumes, USCG OUPV Captains. Amos runs the 12 passenger yachts, but I still prefer to be "Cruise Director" exclusively aboard the stunning Nerissa, our 49 passenger motor yacht, channeling my "inner Julie" from the 1970's Love Boat 🙂
Zolna Yachts offers customers stunning privately owned yachts for charter. We've become the go-to company in San Diego for private charters for up to 49 passengers, being recommended by the San Diego Concierge Association, Destination Management companies, hotel sales teams and a network of businesses all over Southern California. Many of Zolna Yachts five star customer reviews can be seen on their website, Yelp, Trip Advisor, Google Business, Facebook, VRBO and many other travel and social media sites.
Let's Cruise Together!
---
Clinton Bennett
Captain, Master 100 GRT
Captain Clint Bennett has been professionally navigating the seas of Southern California and beyond for over a decade. He always had a fascination with the ocean, spending his youth surfing and fishing up and down the Southern California coast. That love for the sea turned into a career when a friend asked for help crewing on local yacht charters. Eager to spend more time on the water he soon became a commercial fisherman piloting the net skiff for a purse seiner. Welcoming the birth of his twin daughters, he charted a new coarse and left the rigors of commercial fishing behind. Captain Clint obtained his Merchant Mariner Credential and has entertained countless clients aboard a wide variety of vessels with an emphasis on whale watching and harbor excursions in the San Diego and surrounding areas. Today he uses his years of experience in ocean bound hospitality to provide one of a kind aquatic experiences for Zolna's charter cruises.
---
Theodore Niekras
Master 100 Ton Captain / PADI Dive Master
Captain Theodore is Zolna's head Captain for their 12 passenger motor yachts and their go-to guy for anything from Captain, Crew, bar tending and journeyman.
---
Jason Rime is the head crew for Zolna's 49 passenger motor yacht Nerissa. He's a native of California, born and raised up North and now resides in Chula Vista, California with his wife Marisela and daughter Ella.
The United States Navy is brought Jason to San Diego in 1995. He served for 4 years and loved San Diego so much he never left.
Jason is an avid outdoorsman and has been around, in and on the water his whole life. From riding Jet skies in the river, to camping with boats on lakes, and now enjoys working as head crew for Zolna Yachts aboard their luxurious yachts on the San Diego Bay.
---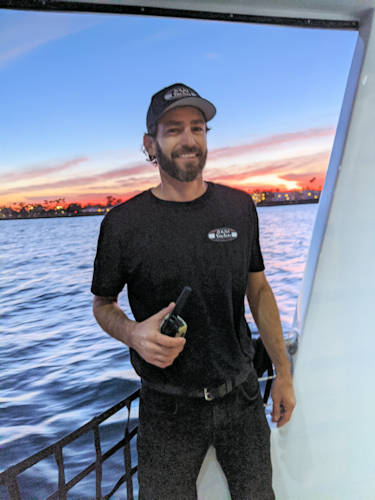 Mark grew up in San Diego and has always loved the ocean. Last year he spent 4 epic months sailing around the South Pacific, covering 10,000 nautical miles and crossing the equator 5 times. The hours on the water from that trip qualified him, time wise, for his Captain's license. He enjoys working on yachts and generally loves working in hospitality. He says his favorite part of working on the water in San Diego is meeting people from all over the world and showing them the best views of our city from aboard the incredible Zolna Yachts fleet.
---
Arnie Barkhorn
Head Bartender - Nerissa
Arnie Barkhorn, owner of "Masters of Bartending School" in San Diego, is the head bartender for Zolna's 49 passenger motor yacht, Nerissa.
---