Meet the Zolna Yachts Team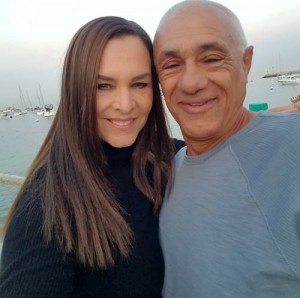 Amos and Shari Zolna moved from New York City to San Diego in 1995. They have a beautiful daughter, Annabelle, who has become a fantastic First Mate and crews on many of their charters until she heads off to college at UC Santa Cruz. They have a rescued German Shepherd, coincidentally named "Bella" whom they still foster after having successfully found "fur-ever" homes for her 10 gorgeous pups.
Amos and Shari instantly fell in love with everything this magnificent city has to offer. From the sea, to the the mountains, to the desert wildflower explosions, they found San Diego to be so much more than a city. Then to discover the Gas Lamp District, Little Italy, and a multitude of cultural venues and events, the Zolna's knew this was the place for them.
It was easy to acclimate to San Diego's great year round climate, and they were especially drawn to it's unique coastal way of life. After many years of owning vacation rental properties on the island of Maui, Amos came up with the idea to combine their knowledge of the vacation rental business with their passion for boating. And so they did. In March of 2007, they opened Zolna Yachts, a unique San Diego business offering lodging aboard a yacht. Soon after they added to their resumes "United States Coast Guard Captains".
This yacht lodging business evolved into a full service yacht company that offers customers a fantastic fleet of privately owned yachts for overnight lodging and charter. Zolna Yachts is now the go-to company in San Diego for private charters, being recommended by the San Diego Concierge Association and a network of businesses all over Southern California. Many of Zolna's five star customer reviews can be seen on their website, Yelp, Trip Advisor, Google Business, Facebook, VRBO and many other travel and social media websites.
In addition to Zolna's growing charter business, and what separates them from anyone else in the Yachting Industry, is their Yacht Management Services which have been instrumental in helping yacht owners afford and maintain yacht ownership. When a yacht owner adds their vessel to their fleet, they can be assured that their yacht will be immaculately maintained and they can even make a financial profit at the end of each month. "We make it very easy for a 'regular' person to own a yacht."
Many of us aspire at some point in our lives to own a gorgeous motor yacht, yet only a lucky few ever reach that goal. For some, it is an accessory to a lifestyle or a means to other pursuits like fishing, diving, island hopping or just entertaining friends, family and business associates. For the Zolna's, they traded in their 20 ft Ski Nautique for a 46 ft Meridian motor yacht, the Ohana Pacific. The only way they could afford this luxury, was to make a business out of it.
They have assisted so many people over the years in their decision to buy or sell a yacht and are happy to share their expertise and knowledge with their customers. So it made complete sense to add yet another credential to their resumes, 'Yacht and Ship Broker'.
Thank you for choosing Zolna Yachts for your lodging, charter, management and yacht brokerage needs.
---
Clinton Bennett
Captain, Master 100 GRT
Captain Clint Bennett has been professionally navigating the seas of Southern California and beyond for over a decade. He always had a fascination with the ocean, spending his youth surfing and fishing up and down the Southern California coast. That love for the sea turned into a career when a friend asked for help crewing on local yacht charters. Eager to spend more time on the water he soon became a commercial fisherman piloting the net skiff for a purse seiner. Welcoming the birth of his twin daughters, he charted a new coarse and left the rigors of commercial fishing behind. Captain Clint obtained his Merchant Mariner Credential and has entertained countless clients aboard a wide variety of vessels with an emphasis on whale watching and harbor excursions in the San Diego and surrounding areas. Today he uses his years of experience in ocean bound hospitality to provide one of a kind aquatic experiences for Zolna's charter cruises.
---
Theodore Niekras
Master 100 Ton Captain / PADI Dive Master
Captain Theodore is Zolna's head Captain for their 12 passenger motor yachts and their go-to guy for anything from Captain, Crew, bar tending and journeyman.
---
Jason Rime is the head crew for Zolna's 49 passenger motor yacht Nerissa. He's a native of California, born and raised up North and now resides in Chula Vista, California with his wife Marisela and daughter Ella.
The United States Navy is brought Jason to San Diego in 1995. He served for 4 years and loved San Diego so much he never left.
Jason is an avid outdoorsman and has been around, in and on the water his whole life. From riding Jet skies in the river, to camping with boats on lakes, and now enjoys working as head crew for Zolna Yachts aboard their luxurious yachts on the San Diego Bay.
---
Meet our newest crew member, Alexia Felix. Lexi, as she is known by, has always had passion for boating and being on the water. She loves living in San Diego and being able to enjoy the Pacific Ocean every day. Growing up around all types of boats spurred her interest to work as crew on several charter yachts. She enjoys the new adventures each charter brings and looks forward to working with Zolna Yachts. She has 3 young adult children, 19, 20 and 21 all pursuing their college careers. Lexi has an ongoing career as an IT project manager creating and implementing IT solutions for the health care industry which keeps her busy when not hanging out on boats.
---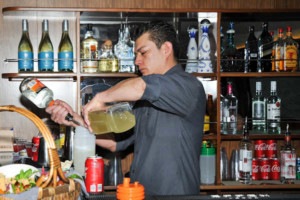 Arnie Barkhorn
Head Bartender - Nerissa
Arnie Barkhorn, owner of "Masters of Bartending School" in San Diego, is the head bartender for Zolna's 49 passenger motor yacht, Nerissa.
---
Ken Apple is a northern California native. He and his wife Joyce moved permanently to San Diego in 2009. Ken has been involved in boating most of his life owning his first boat at age 18, meeting his wife within six months while water skiing on the Sacramento River. Their love for boating continued and decided to get married just six months after that. They have raised their family with boating, from pickle fork hydros to houseboats and family style ski boats and sometimes owning up to five at one time. After sending their kids off to school, Ken and Joyce moved to San Diego and are currently living on their 65′ sport fishing boat.
Owning a specialty retail business for 18 years and having a strong mechanical background with a 100 ton master Captain's license, provides a natural fit to understanding the needs a client has and to finding the right boat for their needs. Ken has experience with national and international boat deliveries, is a Captain for Zolna Yachts as well as a journeyman mechanic for our fleet of vessels and others. His wife Joyce crews on many of our charters.
We are thrilled to welcome Ken and Joyce to the Zolna Yachts team. They bring with them an exceptional level of skill, knowledge, professionalism and integrity to our company.