Zolna Yachts Services
To give you the best possible experience aboard our yachts, we have several additional services that we can provide to make your overnight stay or charter cruise a memorable one. These services can range from basic to elegant catering, wedding planning and coordination, corporate event and team building, party planning, and even massage therapy on the bay While we've tried to think of the standard services and even some extra special needs, there always something that we may not have considered. Just ask and as a local family business, we can meet your specific needs and requirements. Let us know if want or need something special. We'll be happy to arrange and make it happen. Our goal is to provide you with a very fun and memorable experience that you'll want to share with others.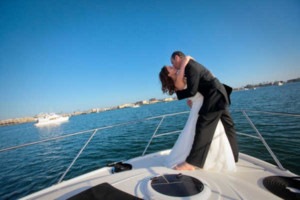 Celebrate this very happy occasion and let us take care of you. We'll coordinate with any outside services you may need or just keep it simple. Either way, the beautiful San Diego Bay or city skyline will be your backdrop. Then consider staying aboard our yacht for a very special and intimate honeymoon.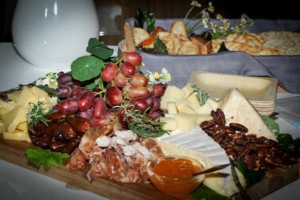 From something simple like a wine, cheese and fruit platter to a fully catered meal or restaurant delivery, we can take care of this for you or help you with the arrangements. We'll also be happy to coordinate with any independent caterer that you may have already chosen. If you want to provide your own food and beverages, we'll take care of the setup, plates, utensils and cleanup for a small nominal fee.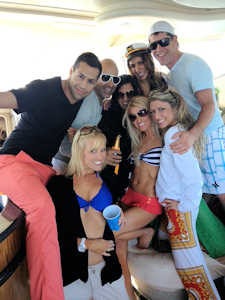 Life is made of events that become treasured memories. We've produced everything from lavish corporate events to small company meetings, delightful birthday parties to the most memorable weddings, marriage proposals, anniversaries and everything in-between.
Zolna Yachts can handle parties from 2 to 48 guests so whether you want a small intimate gathering or a large party, we can help you put it all together. Click here to see our yachts.
All our parties are custom designed, just for you. Let us know the theme of your occasion, how many guests will be joining you, what type of catering, if any, you have in mind, and we will go to work to come up with the perfect package for you. Almost nothing is set in stone; we're not huge fans of terra firma. So between us, the caterer, and you, we will come up with your dream event. Keep it simple, or pull out all the bells and whistles. We will work with your ideas and your budget. All out of ideas? That's alright. Let us offer you some suggestions, show you some pictures, provide you with some menus, and let the pieces fall into place. That's what we're here for. And we love what we do!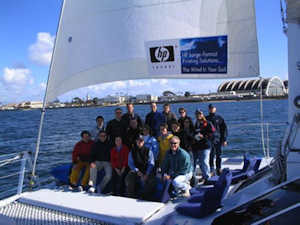 What better atmosphere could there be for business consulting, team building and bonding than getting away on the open water away from the daily distractions.
This is an executive's perfect retreat. Great for entertaining and impressing clientele. A fabulous thank you for a customer with whom you've closed a sale with. Our past customers tell us constantly that this was the perfect and most unique way to entertain their favorite clients.
For a smaller team or group of clients up to 12 guests, the Ohana Pacific or Hula Kai 2 are the perfect choice for you. For larger groups, the Nerissa or Ultimate Catamarans can handle up to 49 guests. If only top of the line will do, then the Ultimate Mega Yacht will certainly spoil any client or team. We can take a standard 2 hour harbor tour or alter any cruise for your client or team needs. As with all our cruises and parties, we can cater and customize this event to meet and exceed your highest expectations.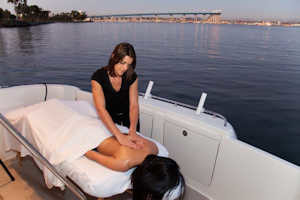 Treat yourself to a very special indulgence and have a relaxing and therapeutic massage while cruising or anchored on San Diego Bay. Enjoy a soothing massage as the water gently laps up against the boat creating a serene and peaceful surrounding for the ultimate in relaxation.
We can recommend and arrange for a massage therapist for you or you may chose your own, if you desire. Various types of massage are available including Zen Shiatsu, Swedish, Sports, Thai-Yoga and more. Massage fees are in addition to any cruise or lodging fees. Please arrange your massage at least 7 days prior to your visit.