Yacht Charter Weddings in San Diego
Zolna Yachts understands that every love story is unique and special, as should be your wedding. Come experience the very pinnacle of luxury aboard a San Diego yacht charter wedding on our own gorgeous Nerissa motor yacht. Let us roll out the red carpet for you!
Zolna Yachts offers weddings, proposals, honeymoons, anniversaries or just about any other romantic reason you can think of, aboard one of our yachts. What's more romantic than having the sunset, the San Diego skyline or the Coronado Bay Bridge as your wedding background. Whether it's just a charter cruise or you decide to stay a few days, we can accommodate exactly what you need to make it one of the most romantic times of your life.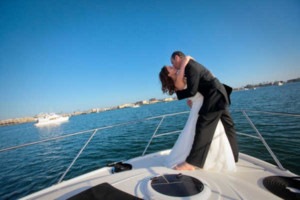 From small intimate weddings to larger weddings up to 49 guests, we have a yacht to suit your needs. San Diego Bay has some of the most beautiful sunsets, so treat yourself and your guests to a very special San Diego yacht charter wedding that no one will soon forget.
For weddings up to 49 people, the Nerissa is a perfect choice with a full bar, dancing area, on deck spa & plenty of room. Custom bar service, catering, live music and entertainment is available. If you can think it up, we will make it happen.
Our wedding ceremonies on Nerissa typically take place on the upper deck with fabulous views of the San Diego Skyline or the Coronado Bay Bridge. Our sound system can be blue toothed or auxiliary cord connected transforming the upper deck, entry bar area or the salon into dance floors.
You can choose to have one of our fantastic on-board chefs creating delicious passed Hors D'oeuvres with placed platters throughout of whatever your heart desires within your own budget. 
If your wedding guest list tops 49 guests, consider doing a Wedding Party photo shoot on board the yacht or perhaps an unforgettable Rehearsal Dinner Cruise.
As with all our parties, we can provide catering and customize this event to meet and exceed your highest expectations.
For a truly intimate wedding surrounded by only the most treasured people in your life, the Ohana Pacific  is just the right choice for you. Both of these yachts can accommodate up to 12 people. Once again, we can provide catering and customize this event to meet and exceed your highest expectations.
Maybe you've found the right person but need something 'over the top' for your proposal. Well, how about a romantic cruise in San Diego with red and orange sunset hues lighting up the sky, the beautiful city of San Diego on the horizon, and a glass of Champagne while you pop the question? That's the type of moment that anyone would treasure when thinking about their marriage proposal. Zolna Yachts can help you make that happen!
Romance is not just for weddings and proposals but sometimes for those special anniversaries or just to let your special person know you love them. What better way than to treat them to a romantic cruise on San Diego Bay. Add some Champagne or wine and a basket of bread, cheese and snacks and you have an intimate picnic on the water.
So contact us now and we'll make sure that every detail is taken care so you can enjoy your special day.