Holiday Events on San Diego Bay
Why Knot Halloween on A Yacht?

Tired of the same old thing? Put on your pirate costume or whatever floats your boat and join us for an unforgettable Halloween Party in the dark of night, under the moon on the San Diego Bay. Our caterers will provide you with some creepy but delish food and we won't make you answer the door. Trick or Treat?
Call me at 858-688-2694 to find out.
We've Got You For The Holidays!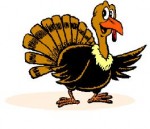 What do you have planned for the family during the Thanksgiving and Christmas breaks? Gather everyone up and join us for a fun family San Diego Bay Brunch or Dinner Cruise. Let one of our caterers provide a scrumptious spread and our bartender will serve up some yummy holiday cocktails.     Reserve your yacht here
San Diego's Annual Parade Of Lights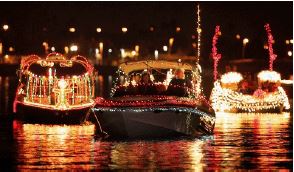 The San Diego Bay Parade of Lights is a time honored holiday tradition brought to us by the local boating community. Continuing its longstanding tradition, the 48th annual San Diego Bay Parade of Lights promises to dazzle and entertain crowds during the evening of December 8th & 15th – 5:00 PM. Participants in this year's highly anticipated holiday boat parade w ill decorate their boats to fit this year's theme, which will be Comic-Con on the Bay. Presented by the Port of San Diego, the San Diego Bay Parade of Lights brings more than 100,000 San Diego residents and visitors to the San Diego Bay each year. The procession of approximately 80 lavishly decorated boats has become one of the most iconic events in the region. The best viewing is aboard a yacht! We have availability for 12 guests aboard the Ohana Pacific yacht for both dates. Availability for up to 49 guests aboard the Nerissa yacht for December 8th. Call Shari now at 858-688-2694 for reservations.